(For previous news, please go to our "news archive" page)
January 2007 - Journeying Closer to Home
This long-overdue update sees us in Australia, recovering after a busy four months. We've settled into our new home, and we're planning the year ahead. Here's the news since our last entry.
1. September in the South
We'd only just had time to settle into our new home on top of the range at Maleny, when we were off again - this time to Victoria. We were booked to play at an artspace near Lakes Entrance, a beautiful part of the world in Victoria's east. After a couple of days in Melbourne catching up with family and friends, we hopped on the train and made our way to our hosts' lovely home in the hills. There was a choir practice on that night, but John begged off and watched High Noon with Brian instead (It's not every day you get to see Gary Cooper in all his glory).
Elizabeth and Josephine run a series of concerts every year at Josephine's Bungalook Studio and we were very happy to be included. The studio is mud-brick and as well as being a venue for concerts, houses Josephine's art practice. Nic was right at home. The concert was a great success, with tea, coffee and cake included in the entrance fee (Important note to concert organisers: scones with jam and cream are an essential element).
All in all, we spent a week in Victoria, along the way assisting Nicole's brother Christopher to consecutive victories in his local pub quiz nights. Showered in such glory, we returned to Queensland.
2. Bits and Peace and Quiet
After so long on the road, stopping in one place for a while was quite a strange experience. We slowly managed to set up an office, unpack all of our books and get to work in the vegie garden. We started to learn the habits of the neighbour's dog, we had our bikes fixed up and immediately found ourselves in magpie season. For those not familiar with this season, when magpies are nesting each year, they scout out their territory, identify all of the regular locals and then, for about 3-4 weeks, they viciously attack anyone else who comes near their nesting area. They are particularly fond of swooping on passing cyclists, innocently on their way to the shops for tasty loaves of much-needed bread. Cycling was placed on hold for a time.
While John got stuck into the house and Nic began reviving her art practice, we also found time to play and sing. Along with our good friends and singing buddies Andrea and Helena, we ran some more Voice Gym classes as The Voices. Monday night classes for those on their way home from work. The series was heaps of fun and we were once again reminded of how many people are keen to incorporate singing into their lives.
And as well as some teaching work, we performed at Noosa at the weekly "Get Up and Go" concert (where the amazingly energetic Alan Kelly from the Barleyshakes organises a backline of drums, bass and lead for anyone who wants to "get up and go"with their songs) and made an appearance at the Samford Performers Cafe (which also features great cakes - can you see a theme developing yet?)
A very special part of being back in South-East Queensland was the chance to reintegrate ourselves into the local musical community. We started making the trip to Brisbane for the Wednesday trad session at the Irish Club, getting to the Broadway for the Saturday session and catchup with old mates, and heading up to Noosa for Alan's Tuesday night session. We popped along too to the Upfront Club and joined in a couple of the ABOFOTS (A Little Bit of Folk on the Side) nights. We particularly enjoyed their birthday party. Here's a shot of the distinctively-dressed organiser, Paul Lawlor.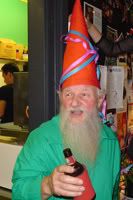 For those who haven't checked it out yet, Bob fr

om the Goodwills recorded some of our performance that night. You'll find a (dimly-lit but beautifully-sounding) film clip of The Briar and the Rose on YouTube here.
October also saw us play with the Champion Moreton Bay Band at the Morningside Colonial Dance and run a full-day Masterclass Workshop with the Voices. Once all that was out of the way, it was time to fly to North Queensland for theYungaburra Folk Festival.
3. Back in the Tropics
The Yungaburra Folk Festival really felt like coming home to us. Up on the Atherton Tablelands to the West of Cairns, the festival centres around the magnificent Lake Eacham Hotel. 2006 was the festival's 25th birthday and so lots of familiar faces were on hand to join the party. Martin Pearson came up from Victoria, The Rogues reformed for a special appearance, Danny Spooner, Rebecca Wright, Mike Jackson - it was a great party with lots of friends, and we even managed a family dinner to celebrate Nicole's birthday.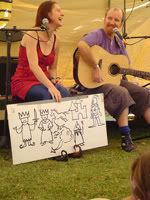 The only fly in the festival ointment was an over-zealous security guard on Saturday night. The pub was being closed by the police because of a fight in the street outside ("But if you close the pub, we'll have to go out into the street where the fight is"). John advised the security guard that he was staying at the pub, "So where should I go?". It's been a long time since John was told to go to his room, but he took it well. ("But I'm not tired."). Despite this slightly weird interlude, we had a lot of fun and sang our heads off.
We had a particularly good time at our kids' gig, which included the soon-to-be-chart-topping Kings and Queens and Horses and Dragons, in which John makes up the verses according to the kids' enthusiastically screamed suggestions, while Nicole does the drawings.
After a lovely week in the North, the time came to head home again.
4. The Summer is A-Coming In
Back in Maleny, we busied ourselves with art, office-work, playing and some long-sought-after lazing about.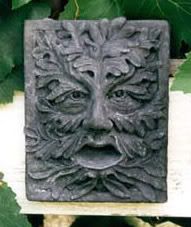 The odd session here and there kept our hands in as we started planning for the Woodford Folk Festival at the end of the year. John played a few gigs with a local Irish band who found themselves a member short, we cast a stack of concrete Green Men for an local arts and crafts market, Nicole got stuck into clay sculpture with the local pottery group, a Maleny gallery took one of her paintings, and she started work on a commission for some Brisbane friends and art-lovers.
There were parties to attend, and rehearsals to get underway. We'd been booked at the Woodford festival to play as a four-piece. Now, while we'd done some four-piece work in the UK with Vicki and Jonny, this time we were planning to play with a new line-up and try some new arrangement ideas. We joined with Rebecca Wright on cello (whom you may remember from her playing on Violet Sarah and Muckle John and Dance Up The Sun) and our friend, flautist and fiddler Belinda Ford (another member of the Barleyshakes). December saw us starting to put it all together and we had a ball! Two flutes jostling and flying on the Blacktown Jig and the deep earthy hum of the cello, and some sweet four-part vocals.
And then... John got a job. The earth shifted on its access and the stars were jolted from their orbits as the demands of getting up at the same time every morning for the first time since 2003 were felt. Bill Hauritz, the organiser of the Woodford Folk Festival was in need of an assistant and John was in need of some money and so these two facts had their happy co-incidence in December. Fortunately, John and Bill are old friends and so it all went well. The routine was welcome, the work was interesting and Nic was at last left alone to get on with her painting.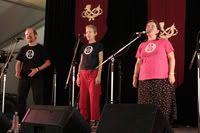 In amongst all of this, there was the reformation of John's old trio, One Step Forward. Maree Robertson and Ann Bermingham sang with John up until 1997 in Brisbane and at some of the major festivals around Australia and we thought it was time to get back together, also for the Woodford Festival. Around these rehearsals, John was writing a debate, put a short article on English floor-spots into one of the Aussie folk mags (a copy of which you can read here), and started preparing for the annual resumption of the breakfast show with Martin Pearson.
5. And On To Woodford
You're probably wondering by now if all the work was worth it. Absolutely! The Woodford Folk Festival was once again an amazing musical and personal experience of discovery, growth and song. It's hard to overstate what a significant event this is. (At one of his gigs this year, James Keelaghan said that he considered it "the best festival in the world").
Apart from 2003-4 when we were in the UK, we've made it to every Woodford but this year was one of our busiest. Cloudstreet played 5 gigs including a spot in the Childrens' Festival, Nic joined with the Voices for two of their five Voice Gym sessions, we sang in both the opening ceremony (Time is a Tempest) and the Fire Event on the night of January 1st. John also played 5
performances with One Step Forward, 7 breakfast shows with Martin (including an opportunity to sing with Peter Garrett from Midnight Oil - now a member of the Australian parliament), and even found time to lead his team to a magnificent victory in the Great Debate (if you're a sucker for detail, you can read his speech here).
A highlight during the festival was the chance for the four-piece cloudstreet to play at the tribute concert for June Nichols, a dear friend and a true stalwart of the Brisbane folk scene for many years. We were joined in the performance of Dance Up The Sun by four members of the Ragged Band Morris.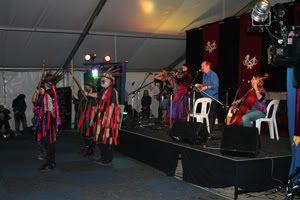 We finished the festival tired but happy.
6. And Now...
We're resting up after the craziness that was the festival, we've eaten our way through a tray of mangoes, and in 10 days time, we're off to New Zealand. Time to recharge the batteries, wash all the clothes and catch up on a bit of work around the house.
We'll stay in touch as the journey continues.
With love from the road,
Nicole and John
PS. Here's the view from the desk at home - the office job was never like this!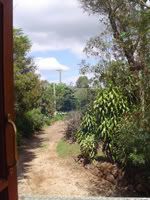 (With thanks to Mary Brettel for the Duck and Shovel photos of One Step Forward and the June Nichols Tribute)
For previous news, check out our "news archive" page